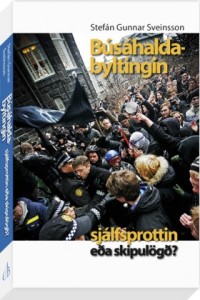 RNH works with, and supports the publishing house AB, Almenna bokafelagid. In mid-March AB published a book by a young historian, Stefan Gunnar Sveinsson, on the street riots of 2008–2009 in Iceland. The book is called Busahaldabyltingin: sjalfsprottin eda skipulogd (The Pots and Pans Revolution: spontaneous or organized?). Professor Thor Whitehead calls the book "a readable, informative and interesting work", and the publisher writes:
The 2008–2009 "Pots and Pans Revolution" was indeed a truly extraordinary chapter in Iceland's history. This previously peaceful society, not even with an army, suddenly seemed to collapse. Government House, the Central Bank building and Parliament House were under siege, government ministers had to use bodyguards, an attempt was made to wrest prisoners by force from the hands of the police, there were fights of life or death in the streets of Reykjavik, many policemen were reaching their endurance limits, a government was thrown out of office. Historian Stefan Gunnar Sveinsson has had access to unpublished confidential material, including police reports and personal recollections, and he has interviewed several participants in these memorable events, policemen, protesters, government ministers and members of parliament. The result is a remarkable book about a remarkable period. There is much new information in the book, not least about the part played by the Left Green party leaders in the riots.
The new book is the second one in a new series of AB studies of Icelandic society, the first one being The Icesave Deals: The Blunder of the Century? by journalist Sigurdur Mar Jonsson, published in the autumn of 2011 to great acclaim.