The world is rapidly improving, whether we look at living standards, health, literacy or the reduction of many social evils, such as violent crimes, warfare and contagious diseases. We have also seen a greening of the earth, with ever less land being required for agriculture, while the environment has in most cases being improving (with exceptions like China). There has been some global warming, and it is probably to some extent caused by human activities, but it is by no means clear that it should be of great concern to us. The problem has been vastly exaggerated. This was in short the message English science writer Matt Ridley brought to Iceland 30 October when he gave a talk before a packed audience in the meeting facilities of finance company Gamma at a seminar organised by RNH. AB Publishing has just published Ridley's Rational Optimist, in Icelandic Heimur batnandi fer, where he describes man's evolution in the last millennia, and the "catallaxy", or system of mutually beneficial exchanges enabling people to utilise the knowledge of one another and to generate new knowledge.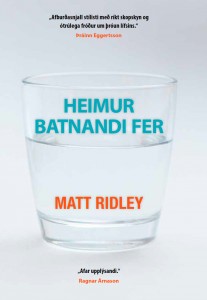 One of Iceland's most distinguished scholars, Economics Professor Thrainn Eggertsson, who also gave a talk at the seminar, writes: "In his book Matt Ridley, writer, scientist, og former Economist senior editor, has rearranged ideas from Adam Smith and Charles Darwin in order to explain why man has done so much better than other animals on earth. How division of labour and exchanges between unrelated individuals have enabled us to utilise the knowledge of millions of people and create goods such as cars, computers and drugs, which none of use could have invented or produced on our own. Ridley also discusses mankind's strong and dark pessimistic streak and some fashionable doomsday scenarios, formerly linked to religion, but now also to natural sciences. The author uses a wide basis of sources, has a superb command of English, peppered with a rich sense of humour, and he draws on an amazing wealth of knowledge on evolution of life on earth and the history of human beings and on new research in the social and natural sciences."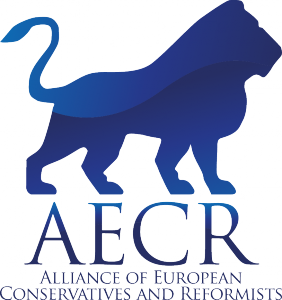 At the seminar, Associate Economics Professor Birgir Thor Runolfsson also gave a talk, explaining an example used by Matt Ridley in his book on how to combine sustainability and profitability: the Icelandic system of individual transferable quotas. This system creates incentives and possibilities for owners of fishing capital both to reduce costs over each season and carefully to maintain the long-term value of the resource. While the ITQ system is not a system of fully defined property rights, it shares some of its qualities, having turned out to be surprisingly successful both ecologically and economically. Most world fisheries are operated with huge losses, but in Iceland the fisheries generate reasonable profits, giving some a cause, or rather a pretext, for complaint. After the seminar there was a reception. The seminar formed a part in the joint project by RNH and AECR, Alliance of European Conservatives and Reformists, on "Europe, Iceland and the Future of Capitalism".