RNH Academic Director Hannes H. Gissurarson turned seventy on 19 February 2023 and therefore had to retire as Professor of Politics at the University of Iceland. He celebrated the birthday itself at the world-famous Copacabana Palace Carnival Ball on 18–19 February, at the beginning of the Rio Carnival. The University of Iceland subsequently held an international conference on 12 May because of his retirement. Before the conference Professor Gissurarson was interviewed on 5 May by Vidskiptabladid, a weekly business magazine, and on 6 May by Morgunbladid, Iceland's only remaining daily. To Fanndis Birna Logadottir at Vidskiptabladid Gissurarson emphasised that he was not retiring from his activities, only from his duties at the University. He said he had enjoyed the 35 years he had spent as a university professor, teaching, doing research and writing. The University had to be an open forum, as science was best seen as the free competition of ideas, not as a group of scientists marching in a given direction to one tune.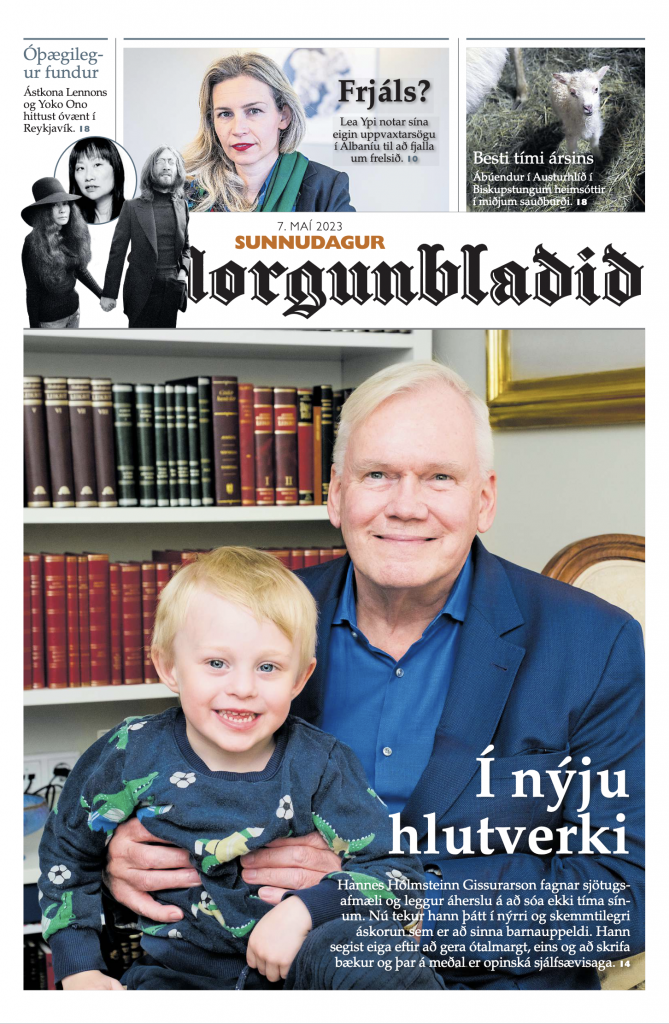 To Kolbrun Bergthorsdottir of Morgunbladid, Professor Gissurarson described his daily routine in his two homes, in Reykjavik and Rio de Janeiro where he spends the winter. He has friends and family in Reykjavik and many friends as well in Rio. In Reykjavik, at the beginning of the Covid epidemic he sold the upper floor of his house to a friend's daughter, who moved in with her one year old son, and according to Gissurarson it had been an unexpected but enjoyable task to participate a bit in his upbringing, as well as a welcome relief from the epidemic. When Gissurarson was asked what he had to say about the many attacks on him over the years, he quoted the adage: 'Don't get angry, get even.' He said that he did not regard turning seventy as worrisome, but rather as a challenge. When he was asked what was most memorable in his career until now, he replied that he was proud of having been convicted of operating an illegal radio station in 1984, in protest against the government monopoly of broadcasting, and of having supported and hopefully furthered the comprehensive liberal economic reforms implemented in 1991–2007 in Iceland under the leadership of David Oddsson and Geir H. Haarde. He added that he was pleased about the positive reception of his works and talks abroad in recent years.
Journalist Eggert Skulason interviewed Professor Gissurarson on the television programme 'Dagmal', broadcast by Morgunbladid on 8 May. The Professor explained his theory that right-wing people tend to be much less right-wing than left-wing people are left-wing. They usually hold their views with much less intensity. This is because right-wing people are reasonably content with life. They just want to better the conditions of themselves and their families and live in comfort: Business during the day, barbecue in the evening. Left-wing people are on the other hand often dissatisfied with life and want to make the world over. They often believe that problems can be solved at meetings, where eloquence gets rewarded. They usually ignore incremental improvements brought about by economic growth, experiments and innovations. Wherever they can, they close ranks and try to exclude right-wing people from any influence. This may be one of the reasons left-wing academics have largely taken over the humanities and social science faculties of universities all around the world. They do not tolerate different opinions. Skulason suggested that this might also be the explanation why Professor Gissurarson has a singular capacity to enrage the Icelandic Left.
On 11 May, Professor Gissurarson was also interviewed on a popular podcast operated by radio host Frosti Logason where he returned to the question why intellectuals are often hostile to capitalism so that he has himself in Iceland stood out as a right-wing intellectual. In this connection, he made a distinction between two approaches to poverty: to make it more bearable, as left-wing intellectuals wanted to do, and to make it more avoidable, as right-wing economists proposed. The best way to tackle poverty was to create opportunities for people to leave it, he said. Left-wing people often did not understand this and therefore portrayed right-wing people as cold and heartless.