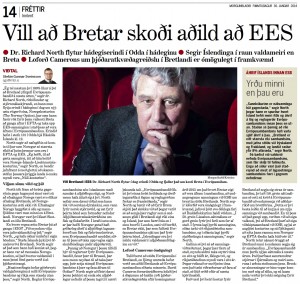 At a well-attended 30 January 2014 meeting jointly organised by RNH, the Europe Watch and the Institute of International Affairs at the University of Iceland, the British political commentator Dr Richard North suggested that the United Kingdom should consider joining the European Economic Area, with Norway, Iceland and Liechtenstein, rather than to remain in the EU. The truth of the matter was, according to Dr North, that the British had much more control of their own affairs outside the EU than inside it. They could as the Norwegians and the Icelanders influence the legal framework in the fields in which they had a special interest. This legal framework was anyway being developed in an international process rather than solely within a EU context.
Dr North reminded his audience that a national referendum on EU membership had been proposed in the UK. The most likely outcome was that the UK should leave the EU. The British wanted to control their own affairs, not to accept directives from Brussels. It would however be better to leave the EU immediately, but to continue to trade normally with the EU countries. The most obvious way of doing so would be to use the legal and regulatory framework under which the Norwegians and Icelanders worked. North spent a few days in Iceland doing research, interviewing representatives of Icelandic agriculture and fisheries on their position towards the EU.
North's lecture provoked much discussion in Iceland, with leading daily Morgunbladid publishing an interview with the British guest 30 January 2014 and the Icelandic Broadcasting Service reporting on his message 31 January. The attendees at the lecture included the Rt Hon Gunnar Bragi Sveinsson, Icelandic Minister of Foreign Affairs. Bjorn Bjarnason, former Minister of Education and Minister of Justice, on whose initiative Dr North visited Iceland, blogged about his lecture and responded to criticisms of it—by people who had neither listened to the lecture nor read it. Dr North himself blogged on his Iceland visit which included a "Golden Circle" tour and interviews with representatives of Icelandic agriculture and fisheries.